The Lovely brand is a leader in eyelash extensions and eyebrow designs, and its 10 years of experience are an added value for its customers! The brand has production bases in more than 10 countries around the world.
Lovely's professional products meet 100% of the needs of professionals in eyelash extensions, eyebrow tinting, etc. The 2021 collection is developed and updated according to the beauty industry trends and includes more than 1500 products.
The Lovely brand has offices in Russia, the USA and Europe, which allows us to be closer to our customers, streamline and reduce logistics costs, understand the specifics of each country's needs and adapt our products and promotions to them.
As part of the development of sales in Europe, the Lovely brand is looking for distributors in Spain who will work with the brand to develop sales and brand awareness in Spain. The brands are developing a 6-month commercial plan with each partner to support and increase sales. The tandem of high quality materials and a broad training base have given the brand an expert profile in the field of eyelash extension, coloring and brow trimming, and provide an undeniable competitive advantage in this market. 

Eyelash Extensions: the best way to show off perfect eyes
Eyelash extensions are one of the best ways to achieve perfect eyes. They are a booming trend that is conquering women all over the world.
This beauty technique consists of adding false eyelashes to natural eyelashes. It is a quick, simple and effective way to achieve spectacular eyes.
Eyelash extensions can be of different types: natural, silk, keratin or silicone. All types are spectacular, choose the one you like the most. They are a perfect alternative to the daily makeup routine. With them you can achieve a more natural or more impressive look, depending on what you are looking for.
If you want to show off perfect eyes, don't hesitate to try eyelash extensions. We assure you that you will not regret it.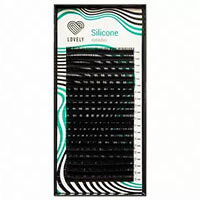 Eyelashes are made of high-quality fiber, elastic, and have a round basis on the cut. "Silicone" eyelashes have a soft natural shine and short tips.
Black Eyelashes range: Silicone and Deluxe
For those looking for a more impressive lash effect, silicone lashes are the right choice. Silicone lashes are flexible, supple and well-shaped, with a rich, glossy sheen from root to tip. Available in 20-line and 6-line palettes. Luxurious lashes are lightweight and help create maximum natural extension, providing the look and feel of real, freshly mascara-applied lashes. Highly recommended for artisans who need natural-looking extension.

All eyelashes for eyelash extensions are available in the palette. The main parameters that characterize the eyelashes are the curve, the length, the distance from the tip to the base, and the thickness, the diameter of the base. All curves are divided into circular curves (B, C, C+, D, CC) and geometric curves (L L + M). The beautician chooses the curve according to the extension effect, the customer's request, the shape of the eyes and the shape of the face of the eyes, the structure of the face shape. Masters will find eyelashes from 0.05 to 0.25 mm thick in the Lovely collection. In consultation with the client, it is recommended to use thinner lashes for volume extension, such as a thickness between 0.05 and 0.085. And for classic eyelash extensions, the thicker one is suitable, from 0.1 to 0.25.
Modern eyelashes for eyelash extensions vary in length from 4 to 21 mm. The lengths are short in the range, and the master uses them to build up the corners and lower lashes. For upper lashes, generally use lashes 7 to 15 mm long.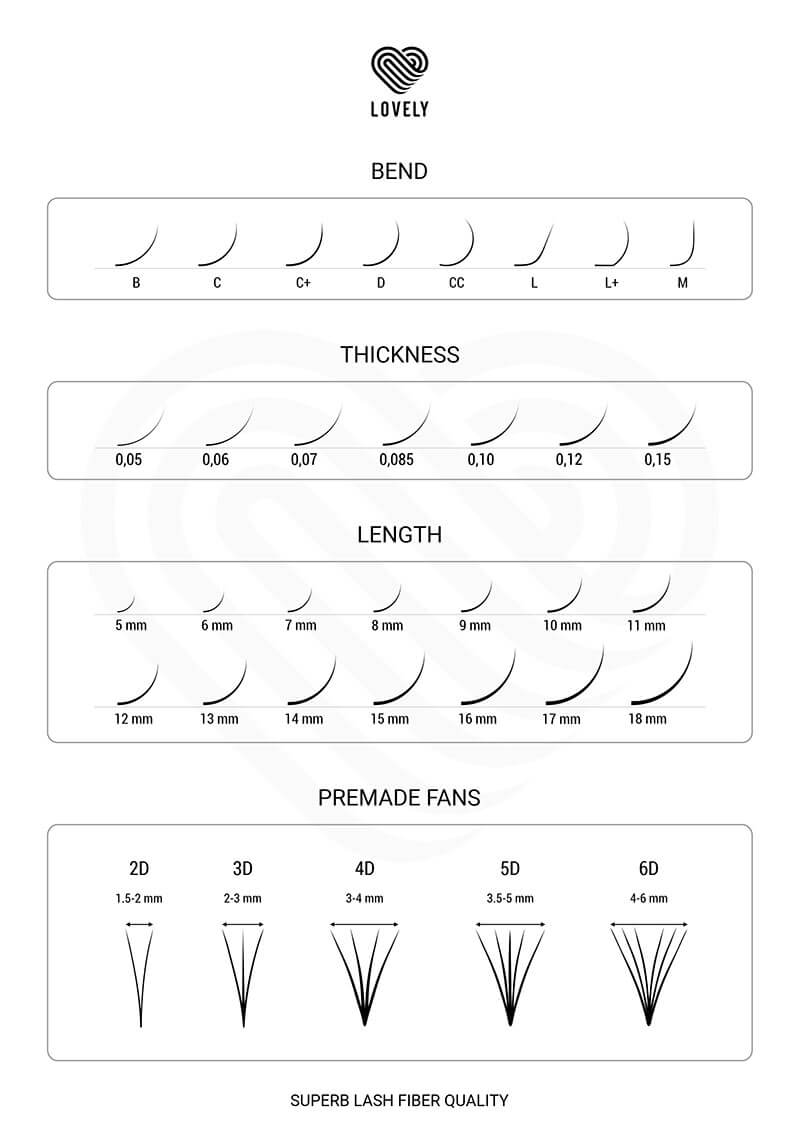 Brown eyelashes: Chocolate and dark brown shades.
Brown lashes are perfect for women who are looking for a natural and discreet look. They are ideal for those who have light or blonde eyelashes and want to give them a touch of color. Chocolate and dark brown tones are very flattering and give a touch of elegance to the look. Lovely has two types of brown eyelash colors in its catalog, so that every woman can find the shade that suits her best.
Curves: B, C, C+, CC, D, L, L+, M
Lengths: 7 – 15 mm
Thicknesses of brown curves: 0.05 0.07 0.10 0.12 0.15 0.20
Range of colored eyelashes
Colored eyelash extensions are a novelty in the eyelash extensions market. They are made of high quality synthetic fibers, which adhere to the natural eyelashes, offering a natural and flattering look.
Colored eyelash extensions are a good option for women who want to change their look without having to undergo surgery. They are also a good alternative to false eyelashes, as they offer a much more natural look.
If you are looking for a natural and flattering look, don't hesitate to try colored eyelash extensions.
Individual colors
Bicolor with black base
Two-tone
Colored
Multicolor
Colored eyelashes are available in a wide range of shades to suit all tastes and styles. There are neutral colored lashes, for those who want a natural look, as well as brightly colored lashes, for those who want to stand out and attract attention.
Eyelash glues – Strong and long-lasting
The Lovely range includes a total of 9 glues. This is a range of glues for all levels of craftsmen, from beginners at the start of their craft to experienced professionals. All glues are rigorously tested and validated before being put on the market.
Our eyelash extension glues are available in 2, 3, 5, 6, 6, 10 and 11ml. The 2ml bottle should be used as a tester to introduce glue into the model, to test and evaluate the glue in use, the 5ml bottle is ideal for inexperienced artisans with a light workload! Products in 10ml and 11ml formats are perfect for busy craftsmen with a high volume of customers.
It has a modern high-tech formula and a liquid consistency.
It provides a "clean" structure without lumps or stickiness.
Has minimal evaporation.
Depending on the type of adhesive, it has a long drying time.
It is available in a wide range, suitable for the most experienced craftsman, for different extension applications.
Frequently Asked Questions about Eyelash Extensions
What is the difference between false eyelashes and eyelash extensions?
Extensions are much stronger, more consistent, more lifelike and more stylish than typical extensions.
Do all Lovely glues have a liquid consistency?
Yes, this ensures that no glue clumps form where the natural and artificial lashes are glued. The most liquid adhesives in the range are NEO and VICTORIA.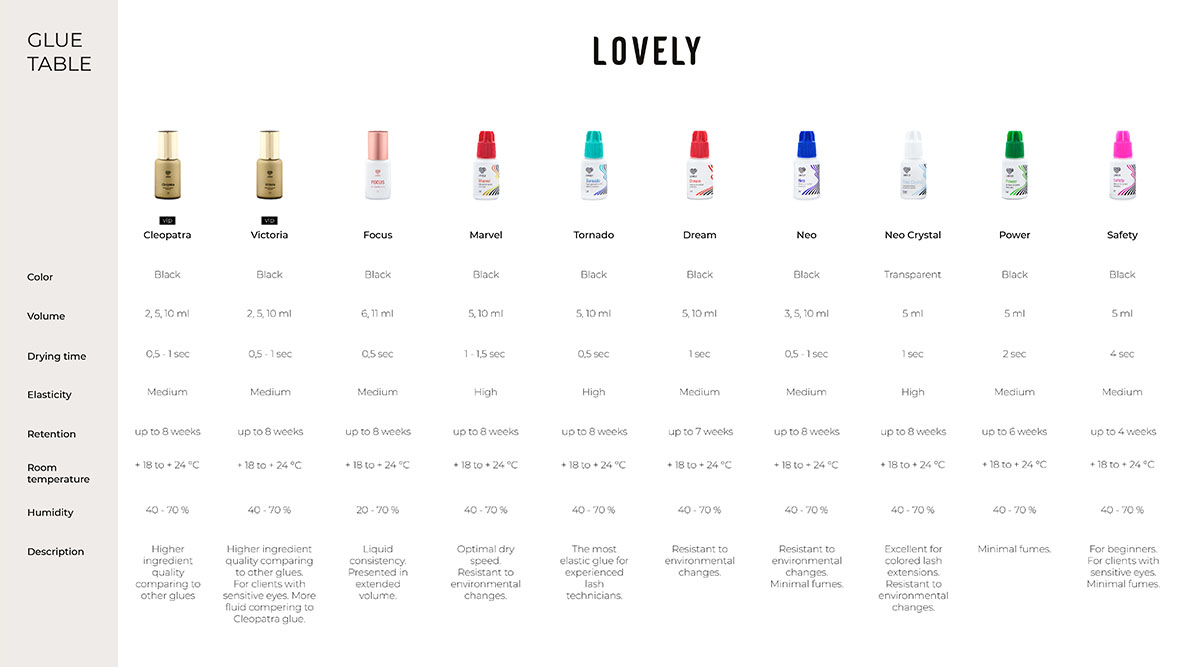 Does each model have different types of glue with different drying times?
Yes, for experienced masters, it is important that the glue has instant adhesion. The slowest setting is 3 to 4 seconds with Safety, and the fastest setting is less than 1 second with Tornado and Focus, almost instantaneous.
How long can eyelashes hold?
Modern eyelash extension glue can hold an extension for up to 8 weeks. The strongest glue is Focus, Tornado, Cleopatra, Victoria, Neo and Marvel.
Can glues overload natural eyelashes?
Not at all, all our brand glues, once dry, remain elastic, do not overload the client's natural eyelashes and allow the manufacturer to model the direction of the artificial eyelashes in extension. The most elastic glue in the range: Cleopatra, Victoria, Neo.
Vídeo about the company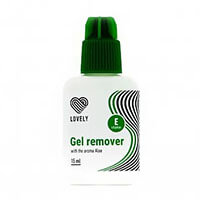 Special product for removing the lash extensions.
Thanks to its ingredients, remover dissolves the glue perfectly, provides fast and efficient lash removal.
During the removing procedure, it doesn't spread around.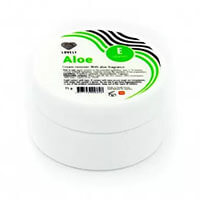 Thanks to its ingredients, remover dissolves the glue perfectly, provides fast and efficient lash removal.
During the removing procedure, it doesn't spread around.
It does not cause allergies.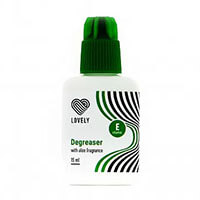 Lovely product for lash extension and lash lifting procedure.
It has special formula that protects your eyes from dirt and keeps your natural lashes and extensions in excellent condition.
Clean lash extensions keep longevity of your semi-permanent eyelash extensions.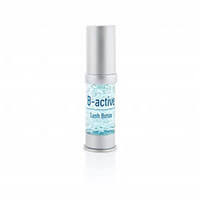 Essential assistant for lash lamination masters and all the clients who like to keep their lashes beautiful and in excellent shape.
B-Active has a double effect on the eyelashes: it gives them a remarkable look and makes their structure stronger.
The product ingredients include natural components that deeply nourish the eyelashes and restore them.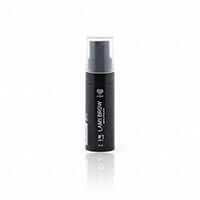 Eyebrow lotion #1 prepares eyebrows for hair lifting treatment. The active lotion components modify hair direction, ensures better performance with lotions #2 and #3 and their penetration in the hair structure.
It has the effect to soft and it keeps brow hairs straight. Prepares eyebrows for styling.